All About PSAS
Our long term goal at Portland State Aerospace Society is to put a tiny satellite into orbit. This is very ambitious--there are so many technical, financial, and legal challenges that we may never never get there! However, this goal clarifies our intent and allows us to ask, "Where do we start?"
The answer is that we focus on small, ongoing projects which move us toward our long-term goal. We build everything ourselves from the ground up and our work necessarily touches all aspects of aerospace engineering. Our rockets are in the amateur classification: smaller than commercial but larger than model rockets. We haven't built the biggest or highest-altitude amateur rocket, but we hope we're building one of the most sophisticated.
Outreach is an important part of what we do as an educational project. We've done many presentions at local schools, and all our projects are open source —from CAD drawings to schematic diagrams to our software.
Get Involved!
We're looking for anyone who is interested in rocketry or engineering. There are thousands of problems to tackle so contact us or drop in on a meeting and we'll introduce you to the project and let you decide where you want to fit in. Here's a quick blurb for new members.
If you represent an organization interested in supporting our group, please contact us about donating.
Areas of Work
Avionics
Avionics are the computer "brains" of the rocket. We're trying to be one of the first amateur groups in the world to build a rocket that is autonomously guided by an on-board computer.
Airframe
We're working on modular airframe sections to reduce the weight and cost of the rocket while increasing adaptability. Airframe sections are easily swappable, as are the fins and skin. Technically speaking, we're hoping to push our mass fraction up as high as possible—beyond 60% for a single stage vehicle—while still maintaining robustness.
Our current airframe is still heavy, and is being used as a simple test-bed for the avionics. We are now in the beginning stages of designing a next-gen light airframe to start pushing the mass-fraction boundaries.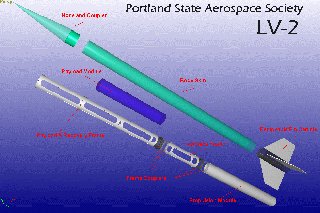 Propulsion
Propulsion's mission is to develop the hardware for vectored thrust. We are developing a ~50 lbf liquid kerosene and oxygen thruster.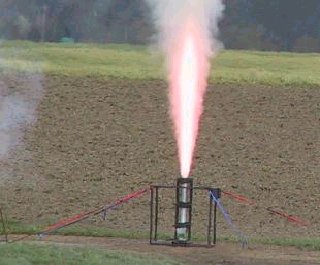 Ground
Since our launch sites and times are dictated by the FAA and the whims of the weather, our ground systems are designed to be as mobile and flexible as possible. The ground systems include the launch tower, launch control module, Communications, Software, and logistical equipment.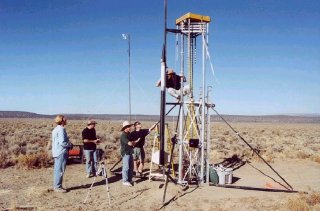 Condensed History
We've successfully launched a number complete rocket systems so far: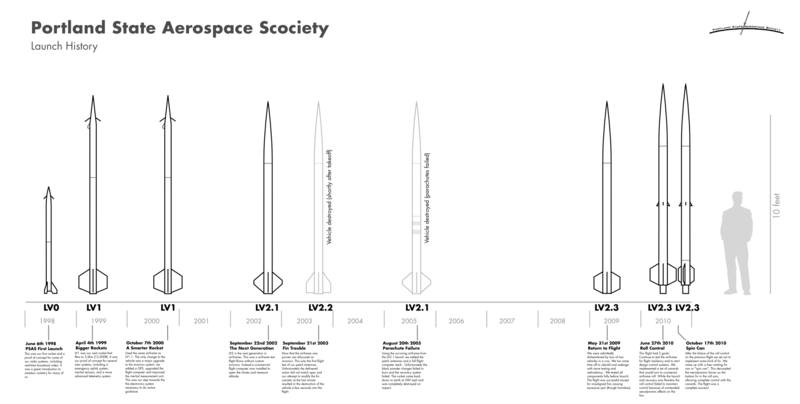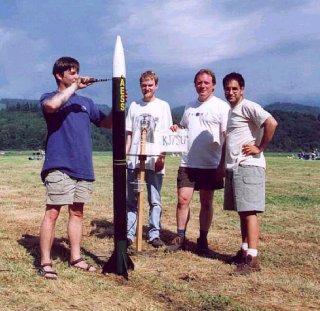 This was our first launch in June of 1998 to 366m (1,200ft). It was our first rocket and a proof of concept for some of our radio systems, including real-time broadcast video. It was a great introduction to amateur rocketry for many of us.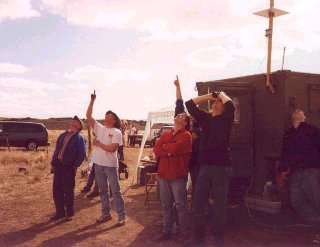 LV1 was our next rocket that flew in April of 1999 to 3.6km (12,000ft). It was our proof of concept for several new systems, including a emergency uplink system, inertial sensors, and a more advanced telemetry system.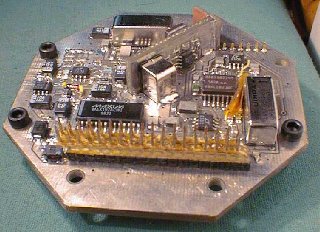 LV 1b used the same airframe as LV1 and flew in October of 2000 to 3.53km (11,600ft). The only change to the vehicle was a major upgrade to the avionics system: we added a GPS, upgraded the flight computer and improved the inertial measurement unit. This was our step towards the the electronics system necessary to do active guidance.
LV2 is our current generation vehicle. It has a modular design and a robust, redundant, dual deploy system and lots of room for electronics. We have launched this airframe several times. Unfortunately our 2005 launch resulted in a complete loss of the vehicle. Since then we have rebuilt the airframe with a few upgrades and resumed flying in 2009. We continue to innovate, adding a roll control module for our flight in June 2010. We will hopefully re-integrate our earlier full avionics stack and then move on to bigger, lighter airframes and a yet more advanced flight computer before 2011.