Pressure Sensor Testing Setup
Overview
Goal: To test a small group of COTS pressure sensors to near vacuum and outside their usual acceleration and temperature ranges. Those sensors are:
Test Setup
Connections between the LPC2148 and the sensors:
ASDX Pressure Sensor
Vout to AD1.7(P0.22)

WARNING! 0 - 5V analog signal.
Yes, the LPC can handle it. But it does mean the top of the pressure range of the ASDX is > 3.3Vmax of the ADC, so we can't read it. That's OK for this, since we care about the low range anyway.

I2C (looks like it's not the -DO version, so no I2C?)

SDA0 to SDA
SCL0 to SCL
Is this sensor really a -DO???
WARNING! I2C pull-ups are 5.6Kohm to 5V (yes, that's OK for the LPC).

Power = 5V from 'Vin'

WARNING! BECAUSE OF THIS, DO NOT POWER THE BOARD FROM AN EXTERNAL WALL WART!!! USE ONLY USB POWER.
MP3 Pressure Sensor
Vout to AD1.6(P0.21)
3.3V
SCP1000
SPI

SSEL0 to CSB
MISO0 to MISO
MOSI0 to MOSI
SCK0 to SCK

DRDY(data ready) = P1.16
3.3V
ADXL321 Accelerometer board
ST (self test) = P1.17
Y = AD0.1(P0.28)
X = AD0.2(P0.29)
3.3V
General Notes
We didn't use any antialiasing filters on the pressure sensors. Arguably we should have. However, our signals of interested are very slow (< 1 Hz) and our sample rate high (~ 1KHz) so we didn't add any for these tests.
We tested the sensors using desoldering pumps, fingers, a bit of sucking, and the amazing Suckulator 8000 that K designed and built for us using a food vacuum system he bought:
K's Suckulator 8000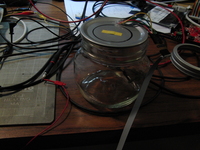 Communication protocol
We decided on a 1 KHz packet rate coming from the device, which was relatively fast, but didn't jam our communication channel of a UART running at 115200 kbps at 8N1 with no flow control.
Commands to the device:
'g' = go (start sampling and sending)
's' = stop (stop sampling)
'a' = send ASCII data at a 1 Hz sample rate (useful for sanity checking sensors)
'b' = send binary data at a 1 KHz sample rate
Packet from the device:
 0xAA 0x55 [MP3H MSB] [MP3H LSB] [ACC X MSB] [ACC X LSB] [ASDX MSB] [ASDX LSB] [SCP MSB] [SCP LSB]

Test Procedure
Steps down to a vacuum
Rapid pressurization to examine step function/sampling latency
Steps up to a vacuum
acceleration on speaker
Testing notes
We ran the pressure sensor testing in Dr. Erik Sanchez's lab at PSU in Science Building 1 room 201. He has a giant vacuum chamber used for sputtering which he let us use.
Giant Vacuum Chamber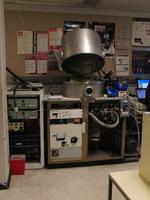 LPC2148 pressure sensing jig in chamber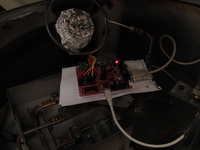 We ran the tests using the roughing pump only, which allowed us to get to about 0.45 kPa of pressue. That's over 100,000ft in altitude, which is good enough for us for the foreseable feature.
The "gold standard" we used was a relatively new Palmil(tm) vacuum gauge that Dr. Sanchez added to the chamber before we got there.
We ran two types of tests:
a calibration run, starting at 0.45 and going up in steps to 101.32 kPa (room pressure)
a "suck down" run, which seemed like a simulated a launch since it only took ~ 10-20 seconds to suck down to ~ 10's of kPa.
Brief Summary:
The SCP sensor was accurately reflecting the pressure recorded on the pressure gauge, even down to 0.45 kPa. This was good news, since that (given the results of the calibration and analysis of latency) we could actually use the SCP at high altitudes.
the ASDX did as expected and worked down to 0.45 kPa.
The MP3 bottomed out due to hitting the ground rail at ~ 10 kPa.
A more detailed summary will come as part of Daniel's instrumentation class write up.