Launch Tower
Launch tower in 20 ft configuration: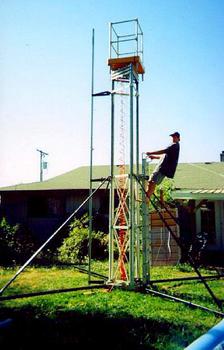 | | |
| --- | --- |
| Collapsed Length | 10 feet |
| Extended Length | 40 feet |
| Weight | 300 lbs (minus outriggers) |
| Footprint | 23 feet |
| Rail | C channel electrical conduit |
| Construction | Telescoping tubular aluminum Tripod |
| Misc. | Operates on 160 psi compressed air |
| Set up time | 30 minutes (two people) |
| On-board electronics | See Lv2LaunchTowerElectronics |
---
Photo Gallery
Tower base with 4 (10 ft) outriggers

View from operators platform at 30 ft.

Full extension of 40 ft.

Tower at 40 ft. Note that rail only goes to 20 feet for current launches.

Another view of full extension

Tower is equipped with C channel rail.

Another view of rail. Rail is offset from tower to allow rocket fins to clear outriggers.

Oh Yeah!!!

Brian O'Neel and Jim Ward ride the tower to 20 ft.

Drawing of tower

Drawing of rail bracket.

Scratch drawing of rail dimensions
A long guided run and a stable platform are essential elements in assuring that a fin guided rocket leaves the pad in a controlled manner. The long run will rigidly control the orientation of the rocket until it achieves sufficient velocity that the fin surfaces can take over the task of keeping the rocket pointed straight upwards. The stability of the platform is necessary to allow for vibrations incurred from the rocket as it travels the rail and also any crosswinds that may be at the launch site. A flimsy tower could mean a skewed trajectory or, in the worst case of the wind completely tipping the stand over, many people running scared.
Our launch tower has demonstrated that it is not subject to these problems. The tower can erect to 40 feet in height, but for our immediate need we only use 20 feet. The stand itself is a pneumatic man-lifter. It used to belong to a school district up in Washington. We assume they used it to change their gymnasium lights or something of the sort. Little did they know that it would eventually end up in a surplus store and be bought by someone who thought it would be a good item to launch rockets from.
The tower is all aluminum, collapses to 10 feet, and can easily be transported by pick up truck. When on site it takes two people to unload it, tip it on end, slip in the outriggers, level it, connect air supply, and start erecting it.
The rail system is commercially available electrical conduit C channel. It comes in 10 ft sections and can be slipped together one section at a time from the ground as the tower is raised. With a secondary brace mounted on the operator's platform, the tower can achieve a total rail length of 50 feet.
Currently we are using a standard shop air compressor to raise the tower. James Ward, of the ground support team, has completed a portable pressure tank setup that allows us to set the tower up in remote areas that don't have power for the compressor.
We have used this tower for several launches and plan to use it as a launch platform for upcoming projects. We also would like to make it available to the local rocket community for some of the larger projects. If you have any questions or would like more technical details feel free to contact us.
LV0 Launch Stand
The LV0 rocket required minimal ground support.
The rocket used 2 cylindrical launch lugs epoxied to the side of the airframe. These lugs were 0.5 inches in diameter and allowed the rocket to ride up a steel rod for approximately 6 feet. This fixed the rocket in a perfectly vertical orientation until it reached the top of the rod. When the rocket left the launch rod it had enough airspeed to allow the aerodynamic forces to stabilize the rocket in flight.
Other than a simple launch stand, the only ground equipment that LV0 required was a remote electrical impulse to fire the motor's igniter.