Portland State University's Fourth Avenue Building (FAB)
The FAB holds the Electrical Engineering and Computer Science departments of the Maseeh College of Engineering and Computer Science.
Getting to the Fourth Avenue Building
1900 SW 4th Avenue
Portland, OR 97201

Here's a Google map of where the Fourth Avenue Building (FAB) is.
What to do when you get there
Here's an annotated google map of the FAB: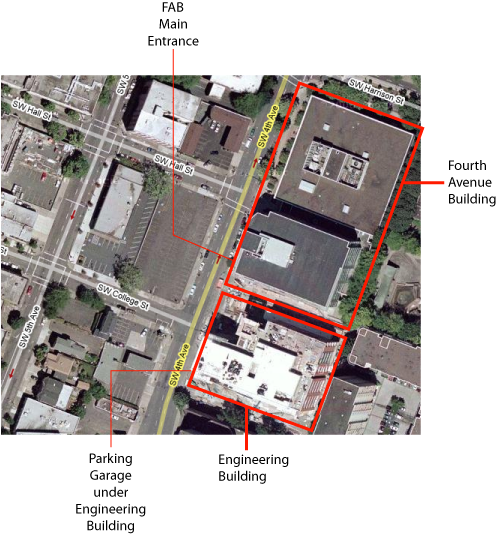 If you walked or took the bus, use the main FAB entrance on the southwest corner of the building off of SW 4th Avenue.
If you biked, the bike racks are just around the corner from the main entrance, on the south side of the building.
If you drove, you can park on the street (free after 7:00pm) or in the Engineering Building (EB) parking garage. The EB parking garage is a bit tricky to get to: you have to come north on SW 4th Avenue (it's a one way), and then dive under the southwest corner of the EB. Note that it's a bit spendy during the day ($3/hour with a $12/day maximum). Once you've driven down into the garage, head to the far distant corner from where you entered and you'll see the elevators. Take the elevators up to "LL" (Lower Level). Follow the green line on the map below.
Navigating the FAB
86-01 is in the basement of the FAB, behind the stairs. Walk in the FAB main entrance to the security desk and turn left. You will see elevators on the left and stairs on the right. Take either of these down one floor to the "LL" (Lower Level). From there, follow either the green or red line on this map to FAB 86-01:
What to do if the building is locked
After 8PM, and on weekends and holidays, all doors to the Fourth Avenue Building lock, and you cannot get in without unlocking the door with a student/faculty ID. If not a student/faculty, or if your card doesn't unlock the doors, you'll need to get someone to come open the door for you, and you'll need to enter via the Harrison Street entrance.