Portland State Aerospace Society team unable to launch the LV1b rocket.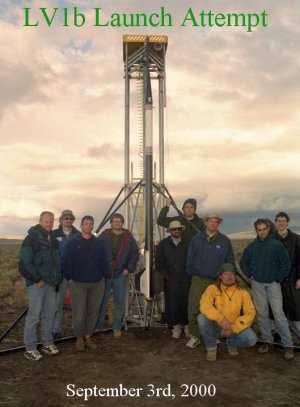 The PSAS misses launch window due to uncooperative weather and minor technical difficulties with the avionic systems.
The rocket was only minutes away from being ready for launch as the 6:00pm launch window closure came and went. The weather was questionable prior to FAA window expiring which would have scrubbed the launch regardless of last minute telemetry problems.
The team was disappointed but not discouraged as it was a good exercise in set-up and integration of the vehicle, avionics, and launch support infrastructure required to launch.
With another launch window opening on October 7th, 2000. The team is optimistic that the next attempt will be successful. All the systems are tested and ready to go.
Check back in the near future to find out the results of our next attempt.
A big thanks to all the friends and families that supported us and made the trip out to the launch site to endure the elements and lend a hand!
Click Here for a story on the days events- by Bend.com
Photo Gallery : click on thumbnail to view larger image.
| | | | |
| --- | --- | --- | --- |
| | Arrival at site. Weather is not looking good. | | Launch Operations. |
| | The main body of LV1b. | | Glenn L. set up communication equipment. |
| | Brian O. sets up antennas. | | Dennis Y. breaths life back into the generator. |
| | Yes, it's actually hailing! | | Final avionics integration. |
| | Teamwork! | | Andrew G. and Matt R. connect antennas. |
| | Tminus 10 minutes till waiver expires. | | A disappointed, but not discouraged, PSAS team misses launch window. |