* For the second year in a row the Portland State Aerospace Society made the journey down to the Black Rock Desert, Nevada to launch our Rocket. For the second year in a row we had to scrub the launch due to technical difficulties.
Sunday mid-morning the decision to scrub was made because our flight computer would not pr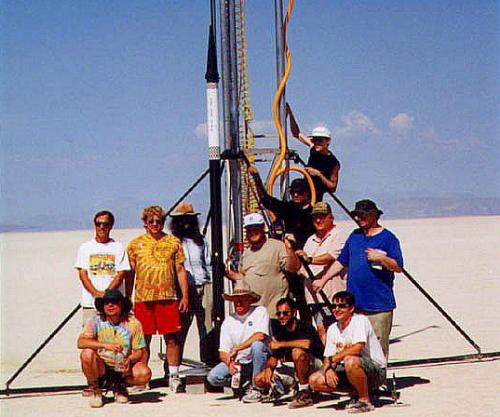 *operly accept its code.
Although we were not able to launch that weekend we got an amazing amount of work done. We put in a good 100 man hours into the rocket and still had time to relax somewhat, have a bit of a vacation, and enjoy the other large projects that were out there. We were also able to set up and field test systems environment that was new to us.

We had about 20 people in our group, some coming from as far away as Washington, Reno, and San Fransisco. We were able to set up our base camp, launch control module and launch tower with little difficulty. This year we went in style with a 9 man air-conditioned RV, complete with shower, microwave, and coffee pot. This was indispensable.
From Left to Right :
On tower : (top) Jamey Sharp, (lower) Jim Ward
Back Row : Paul Glasser, Roger Johnson, Tim Brandon, Anthony, Todd Rogers, Dennis Young
Front Row: Glenn LeBrasseur, Matt Rupert, Andrew Greenberg, Brian O'Neel
There were several large rockets out on the lake bed. The biggest by far was a NO2/HTPB hybrid rocket made by Hybrid Dynamics of Georgia. They were a very professional organization. With over 20 employees, they managed to bring and 25foot tall rocket and tower along with all the support equipment across the country. There set-up was quite something to see. Unfortunately, after working nearly round the clock for 3 days, Sunday morning they attempted to launch and failed. The first attempt was thwarted by a miss-fire and on the second attempt the NO2 tank ruptured due to a weak weld.
We all had a great time and were able to take in some great scenery and meet some very interesting people from around the country with similar interests to ours. We look forward to going next year and actually launching something!

Photo Gallery :
Much of our film is still being developed. More Pictures will be added as we get them. Many of these pictures have been captured form video tape. Sorry for the poor quality.
| | | | |
| --- | --- | --- | --- |
| | Launch Support Vehicle No.1 gassing up. for 500 mile trip to launch site. | | Matt R. and Charles C. working on laptops in the RV on the trip down. |
| | Launch Support Vehicle No.2 with Jim Ward Jr. and Jim Ward Sr. arrives on lake bed with launch tower. | | Early Saturday morning. Time to start setting up camp. |
| | Launch Control Module with parachute poles and spreaders. | | Brian O. and Roger J. cover LCM with parachute. |
| | Launch Control. | | Launch Control from a distance. |
| | Payload and rocket prep area. | | Early Saturday morning preparations. |
| | Tower prepares for roll out. | | Tower, antennas, and weather station go up without a hitch. |
| | Jim W. and Brian O. hook umbilicals to tower junction box. | | Jim W. contemplates the meaning of life, the universe, and everything. |
| | Rail fitted to tower in 20' configuration. | | Tim B. does some last minute soldering. |
| | Matt R. and Jim W. watch some of the days flights. | | Dennis Y. looks for the right part. |
| | Andrew G. suffering from sleep depravation. | | Prepping the recovery and launch lugs. |
| | Dennis Y. and Glenn L. work on the down link. | | Anthony and Jamey S. getting the automated launch sequence program up and running. |
| | Todd R. Steely eyed missile man. | | Hybrid Dynamics very cool rocket in its tower. |
| | Hybrid Dynamics rocket on assembly table the previous night. | | First launch attempt of Hybrid Dynamics rocket. Failed to ignite. |
| | Second attempt by Hybrid Dynamics. Weld in high pressure system failed damaging rocket. | | |
Cool Stuff !
flyby.mpg
Footage of tower and rocket :
flyby.mpg
Run time : 40 seconds
panorama

Java Based panorama picture of Black Rock

---

(This may take 10-15 minutes to load and cause your hard drive to swap ALOT but is well worth it if you have the spare time.)