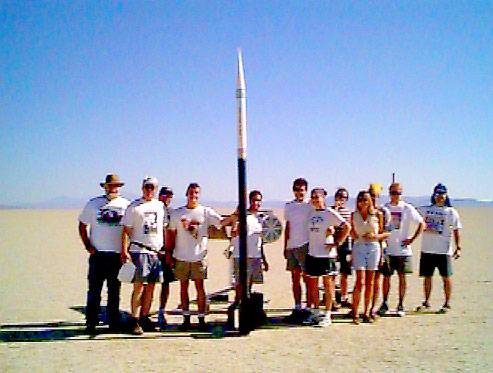 *From Left to Right : *Larry Ball, Shaun Hearn, Jim Ward, Brian O'Neel, Andrew Greenberg, Max Coreth, Alyssa Bandow, Bill Sorenson, Mary Osborne, James Clinton, Matt Rupert, JP Leeming.
Photo Gallery :
The Black Rock '98 group
Shaun posses with LV-1 in two stage configuration
Kicking back at base camp
Look up in the sky. It's a bird, a plane, no it's a falling 16lb bowling ball !!
Amy signs the traditional Black Rock bone
Andrew and J.P. discussing the finer points of the Motorola Data Book.
Bill and J.P. getting rocket ready for flight
James and Mary take lunch on the tailgate
Andrew hooking up the solar array to battery pack and inverter
Brian does his desert dance
J.P. has successful flight
Matt sets up his 12.5 inch reflector telescope
Kevin, Kyla,and the Reno contingent beat the heat
A pretty clever bolt together launch tower.
Doorway of LCM (Launch Control Module)
James, Max, Hannes, and Alyssa in the LCM.
Jim brings up the network in the LCM
Alyssa and James wishing they were about 6 inches shorter
Launch Control Module in place
Parachute canopy goes up over LCM
Base camp and telescope
All the comforts of home in the middle of nowhere.
The black mushroom and flight line
A couple of local's "Ultimate" desert vehicle
"P" motor lofting 16lb bowling ball.
Another "P
motor
* *Early Friday morning 13 people, 6 cars, and about 3,000 lbs of equipment hit the road headed for the Black Rock Desert outside of Reno, Nevada. A few days earlier the decision was made not to launch the AESS LV-1 rocket because some of the systems were not yet finished and tested. We had already planned the trip and taken the time off so we decided to go down anyway. This would be a good opportunity to practice setting up our launch operations and we all needed a good vacation.
The annual "BALLS" experimental launch was scheduled for August 2-3 with some warmup launches on August 1st. For many of us this was our first chance to see some rather big rockets go up. There were groups from around the country present and even a couple of guys from as far away as England. So even though we didn't launch our project there was a lot to do and see.
On arrival Friday evening the weather was less than accommodating. We ran into a evil rain storm in the town of Gerlach near the lake bed. We stopped in at the local watering hole and waited it out. We ran across some fellow rocket geeks and exchanged stories and talked about the coming weekend. We ran into Ky Michealson who originally was going to go for a 70 mile launch attempt but had to postpone due to legal red tape, but we heard there would be some big projects going up Sunday. After a few hours of dryness we decided to brave it and try to make it out on to the playa and then to the launch site.
One stuck Honda and a blown Subaru clutch later we hobbled to the GPS coordinates for the site. We rallied the vehicles, set up tents, and bedded down for the evening. The next morning it was as if the rain had never been there. It was in the 90's and not a cloud in the sky. By the time we got moving the Tripoli Arizona group had the flight line set up and operating.
We dropped the Launch Control Module out of the back of the pickup truck and set up the 25 foot parachute canopy in less than an hour. Everything went smoothly. We got the air conditioning unit and 5000W generator up soon afterwards. With portable shade in place we kicked back and watched rockets.
There were some pretty awesome rockets and big motors. We had an opportunity to see a few "P" (40,000-80,000 N.s.) motor flights. Most of them were set up about a mile away so we saw them lift off but didn't hear the roar of the motor until a few seconds later. The highlight of the weekend was probably the bowling ball lofting competition. There were a few rockets that lifted 16lb bowling balls a few thousand feet in the air then dropped the down on parachutes. That was the theory anyway. In reality it was more like 120 lbs of aerodynamic debris falling to the ground at nearly Mach speed. It seemed like the bigger and more expensive and complex the vehicles the slimmer their chance of operating correctly. It's somewhat comforting that we are delaying our launch until we are 100% sure of all our systems. There's something scary about a bowling ball falling from 10,000 feet over your head. Fortunately it's a big desert and we were small targets.
Overall the weekend was a big success. We proved we could move all our launch equipment 500 miles and set up a base of operations in around an hour. We also had a chance to meet some very interesting people and learn a few tricks. The vacation was much deserved after all the long hours we have put in on the project and we are recommitted to finishing the rocket for it's maiden flight in October.
Whant to see more pictures of Black Rock launch? Visit these sites :